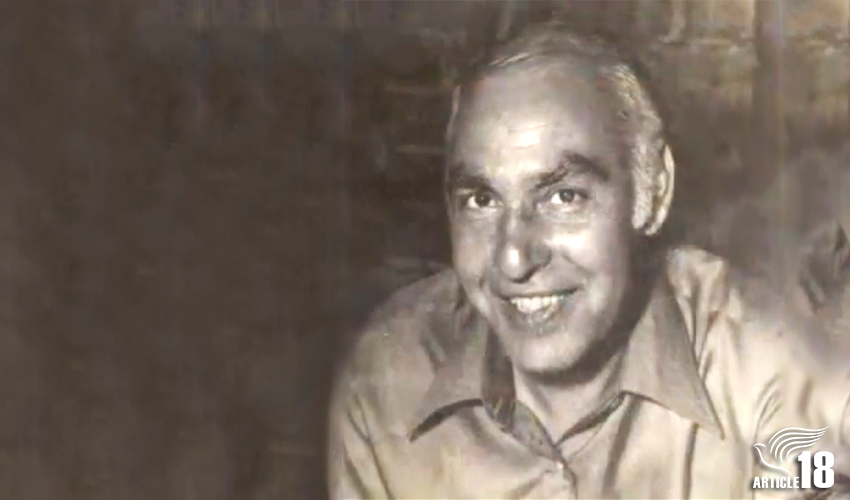 By Anahita Babmohammadi
On 19 February 1979, just eight days after the revolution, Anglican pastor Arastoo Sayyah was brutally murdered in his church office in Shiraz.
Rev. Sayyah was the first of several church leaders murdered in Iran in the violent early years of the revolution, as radicals sought to alienate the communities they felt were the weakest – including the Christians.
On the 40th anniversary of his murder, Article18 has spoken with some of his church members, as well as a British woman who worked in the Anglican hospital in Esfahan at the time, to better understand who Rev. Sayyah was and the impact of his murder upon those close to him.
The interviewees are referred to only by their first names, to protect them.
What do you remember about Rev. Sayyah's murder?
Joy
I was in Esfahan when the news came from a friend of mine at the missionary hospital in Shiraz that something really terrible had happened.
Rev. Sayyah was brutally murdered. They killed him by cutting the vessel on his neck, like cattle. As a sign of disrespect they left a bullet there, next to his body, to show that they had had the opportunity to shoot him but chose the other way.
Zari
It was so upsetting when we heard the news. I thought about his family first: his two sons. We used to play with them and gather in church conferences. Kamran and Kiyomars were still at school. They had to leave the country almost immediately.
It made us all so anxious and we developed fear and uncertainty about the future – really negative thoughts regarding the future of the Church. Since then, nothing was shocking for us; all we could do was pray.
Hossein
I was abroad, studying in India and preparing myself for an exam when one of my classmates read about Rev. Sayyah's murder.
It was really a bitter season for all of us, really dark. I cannot describe my feelings. I was distracted, and my exam went badly. Even my tutors felt the change and asked me what had happened.
Kamran, who had been worried when his dad didn't come home, found him dead in his office. It was terrible. I was not in Iran, but I understood that no-one could fit within this chaotic situation. Lots of people suffered and had to leave the country because of the revolution.
What kind of man was he?
Hossein
I had known him a long time. He was a people-person. I can remember he was the vicar of Esfahan when I was about to receive my first communion. He always encouraged me to become involved in church services, by doing Bible readings and preaching, etc.
He had been a vicar in Kerman and Esfahan before Shiraz.
I was very young in my faith and I can remember his excellent behaviour and encouragement. He was a real evangelist and had a great passion for sharing the Gospel. He asked me to sing Christian songs in the traditional Persian style – Masnavi style. We recorded hymns based on Dastgahs [a traditional Persian system], so people could enjoy listening to them and relate to them.
He often went to the villages in order to share the good news. He would talk one-to-one with people, give them Bibles. He had a medical team with him and would provide medical support for people. He even would provide jobs for people who were unemployed.
I can remember a disabled person who had no money for treating his foot. Sayyah brought him to the hospital and he received treatment for his foot. Then Sayyah supported him and his family to find jobs and stand on their feet.
He spent time researching and reading books. We used to talk about literature and the books we both read.
Since 1967 he was in Esfahan and he encouraged me a lot. When he moved to Shiraz we were still in touch and he visited my family as well.
As Matthew 6:3 teaches, he would never mention his own name when helping my family. He was really into charity.
He came from an outstanding, cultured family. His father was an army general. Like him, he was killed. His sister was married to the executive director at the Esfahan airport. They had knowledge of philosophy and literature. We had interesting discussions after church services.
He had a wide knowledge. He completed his theological education in India. It was not a nice place and no-one was pampered there. All of us completed our course with difficulties. I went to his college in India and everyone remembered him really fondly. Even in India he helped many people and had the same attitude towards the locals.
Jila
He was so caring and generous. He supported a few orphans. In order to empower them, he brought them to the Nourayin Institution for the Blind, so they could learn interpersonal skills through helping disabled people. They would go to school and were able to achieve a good quality of life.
A few times, when my brother Hossein was away, he brought some groceries for my mother and told her that they were from her son. He was so sensible and always respected people's dignity and privacy.
Zari
He had such an attractive voice and I was fond of his Bible cassettes. That warmth in his voice always encouraged me to memorise Bible verses. He would empower needy people.
He would treat all of us the same. In church conferences Rev. Sayyah and his wife would make us feel like he was our father: loved, valued, and respected.
Joy
He was very kind and involved with individuals. In the late 60s, he ran a children's camp in the diocese. He was a very firm person, but really kind.