Iran's "systematic violation" of freedom of religion or belief (FoRB) was just one of the ways the 40-year-old regime "suppressed" human rights in 2018, says Amnesty International in its latest report.
FoRB was systematically violated in Iran in both "law and practice", Amnesty says in its review of human rights in 2018 across the Middle East and North Africa (MENA).
Last month Amnesty called 2018 Iran's "year of shame" for its "chilling" crackdown on the rights to freedom of expression, association and peaceful assembly.
Amnesty's new report highlights Iran's continuing "harassment, arbitrary arrest and detention" of Christians; raids on "house churches"; and "harsh" prison sentences given to Christians such as the Assyrian pastor Victor Bet-Tamraz, his wife Shamiram, and church members Amin Afshar-Naderi and Hadi Asgari – both converts.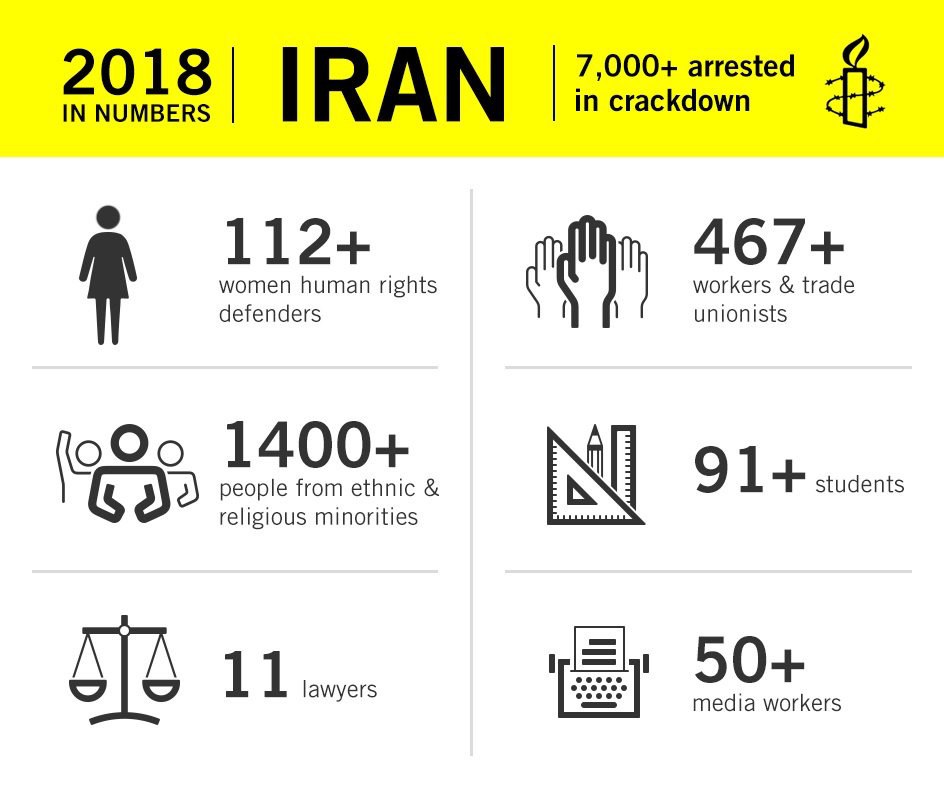 Amnesty, which launched a petition for the release of the four Christians in August last year, noted that they had been sentenced to between five and 15 years in prison "for peacefully practising their faith".
Shamiram's appeal against her five-year sentence was last week postponed until after the Iranian New Year. The new judge in the case, Ahmad Zargar, ruled that her appeal will now be heard alongside that of her husband and the three men sentenced alongside him – Amin, Hadi and a third convert, Kavian Fallah-Mohammadi.
Amnesty's report also highlights FoRB violations against Iran's other religious minorities, including the Gonabadi Dervishes, Baha'is, Sunni Muslims, and Yaresan.
"The authorities continued to impose, on people of all faiths and none, codes of public conduct rooted in a strict interpretation of Shi'a Islam," the report says, adding: "The right to change or renounce religious beliefs continued to be violated."
Other abuses of human rights in Iran highlighted by the report include:
An "intensified crackdown" on the rights to freedom of expression, association and peaceful assembly, jailing hundreds on "spurious national security charges".
Excessive force used to repress peaceful demonstrations – including beating unarmed protesters, using live ammunition, tear gas and water cannons, causing deaths and injuries.
Systematically unfair trials; torture and other ill-treatment widespread and committed with impunity – including the use of floggings, amputations and other cruel, inhuman and degrading punishments.
Numerous executions – including of juvenile offenders – carried out after unfair trials, some in public.
Persecution of ethnic groups, and arrest and detention of minority rights activists.
Authorities sanctioning pervasive discrimination and violence based on gender, political opinion, religious belief, ethnicity, sexual orientation, gender identity, and disability.
Restrictions on access to water in marginalised communities, and poor-quality water leading to 350 in Khuzestan province contracting intestinal infections.
Imprisonment of at least 112 women's rights defenders.
Generalised impunity, including for those responsible for the forced disappearance and secret execution of thousands of political dissidents 30 years ago.
Undermining of the right to work, and continued ban on independent trade unions.