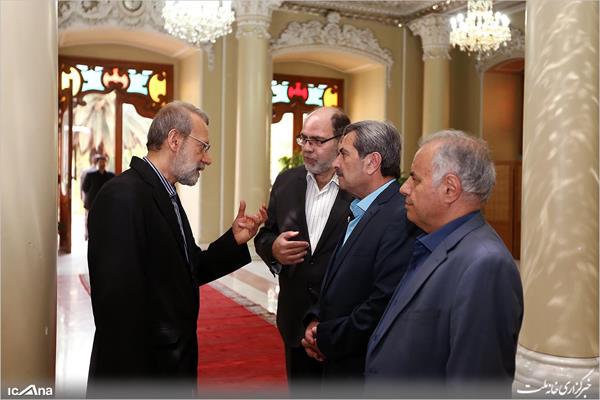 After the USA designated Iran's Revolutionary Guard a "terrorist group", representatives of Iran's ethnic religious minorities in the Islamic Consultative Assembly have caused a stir by defending the guards as "the most mythical and popular revolutionary force in the world".
Among the representatives to have signed a joint statement in the guards' defence was Yonathan Betkolia, the Assyrian representative, who earlier this year was criticised for calling Iran a "paradise" for religious minorities, while at the same time sending his children to school in America.
In February, the US Secretary of State, Mike Pompeo, said he was "troubled" by the hypocrisy of Iranian leaders "sending their kids abroad to go to school, to shop, to benefit from the very freedoms that we have here in the United States, because they know their country is not good enough for their own people. It's good enough for you, but it's not good enough for their families".
Now in their joint statement, the minority representatives, including Betkolia, criticise American interference and accuse US President Donald Trump of "Zionist arrogance".
Despite his position as representative for Iran's Assyrian Christian minority, Yonathan Betkolia has been instrumental in putting pressure on church leaders, and in the closure of at least two churches.
At the same time, he has called Iran the "safest place in the world" for religious minorities, and said Assyrian Christians – a recognised minority in Iran – need no protection from foreign powers.
Yet these comments come as Assyrian Christians such as the Bet-Tamraz family face persecution for practising and propagating their religious beliefs.
Victor Bet-Tamraz and his wife, Shamiram, were leaders of the Assyrian Pentecostal Church of Shahrara in Tehran before it was forcibly closed in March 2009 because the church held services in the Farsi language and was known to attract converts from a Muslim background.
Indeed, it was with the intervention of Mr. Betkolia and the pressure of officials from the Ministry of Intelligence that Victor was removed from the leadership of the church and the church was forced to halt all meetings in Farsi and ban all non-Assyrian members.
Now both Victor and Shamiram are facing long jail sentences of ten and five years, respectively, for having "acted against national security" in sharing their faith with Muslims.
Three of the converts from their church – Kavian Fallah-Mohammadi, Hadi Asgari and Amin Afshar-Naderi – are also facing prison sentences of between ten and 15 years for their religious activities, labelled "actions against national security".
Victor and Shamiram's son, Ramil, has also spent time in prison for his religious activities.
Betkolia's other comments
Responding to claims in 2017 from the former US Secretary of State, Rex Tillerson, that there was no religious freedom in Iran, Betkolia declared: "This claim cannot be true, as all religious minorities have their rights and freedoms in Iran."
He added that religious minorities in Iran were free to conduct their religious ceremonies and that the US and other Western countries should follow Iran's example.
"The Iranian government does not allow anyone to attack and violate our values, while we can all see that in some Western countries religious minority leaders have been attacked by extremists and no-one has stood up for them," he said.
He also criticised the reports of the former UN Special Rapporteur on Human Rights in Iran, Ahmed Shaheed, who highlighted violations of the rights of religious minorities in Iran. 
Betkolia was elected as an MP with little over 2,000 votes from among the estimated 20,000 ethnic Assyrians left in the country.
His other public comments include:
"The fact that we have many churches in Iran, even in the smallest villages, shows how religious minorities enjoy absolute freedom and security in Iran."
"Officially recognised religious minorities have no problem practising their faith in Iran. Our constitution grants them special privileges like civil and religious rights."
"Religious minorities, especially Christians, have no problem in Iran and I testify against the reports on the violation of Christian rights in Iran."