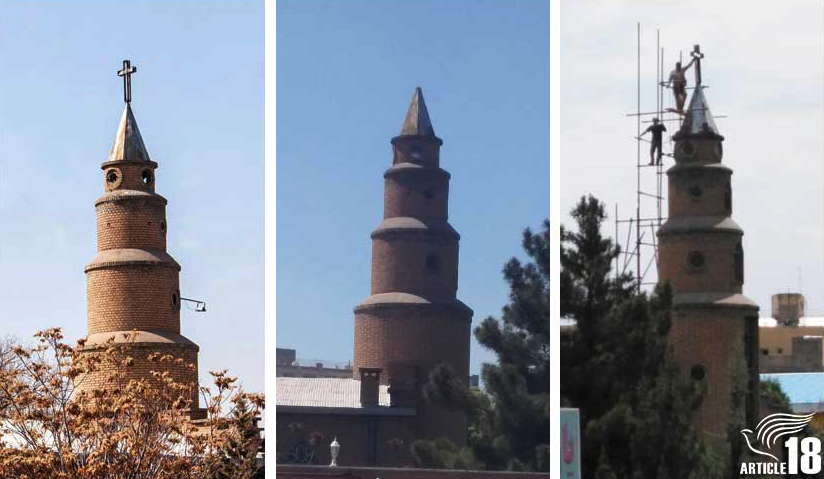 The cross has been replaced on top of the forcibly closed Assyrian church in Tabriz following a global outcry.
In the 9 July photo Article18 has been able to obtain, some men can be seen placing the cross back on the tower.
It was torn down on 9 May as agents from the Ministry of Intelligence and EIKO, an organisation under the direct control of the Supreme Leader, stormed the church, changed all the locks and ordered the church warden to leave.
Ten days after the closure and just two days after Article18 broke the news, the Assyrian representative to the Iranian Parliament, Yonathan Betkolia, openly criticised the move in an open letter to the president, Hassan Rouhani, and called for the cross to be restored.
Then last month a senior legal adviser to the president publicly questioned the legality of the closure and also the recent banning of religious-minority teachers from nursery schools.
Aliakbar Gorji Azandaryani asked the governor of East Azerbaijan Province to look into why the church had been closed, saying he had "serious doubts about the legality", referring to Articles 9, 19, 20, 26, 36 and particularly 13 of Iran's constitution, which states that religious minorities are recognised and free to perform their religious ceremonies.
He added that the move also went against several of the provisions of Iran's Charter of Citizens' Rights, which President Rouhani launched in 2016, and called upon the governor of East Azerbaijan Province to "do all he can to find out about the details of this case, including the background reasons for the seizure of the church and the authority that issued the order" – in this case EIKO.
Article18's advocacy director, Mansour Borji, welcomed the news that the cross has been restored to the top of the Tabriz church and called for a retraction of the court order and clarification that the church has also now been restored to its rightful owners – the Assyrian Evangelical Christian community.
"We welcome this move and believe it to be a good first step after elements within both the Iranian parliament and government recognised the illegality of the church's seizure and confiscation," he said. "We hope the confiscation order, which was first issued in 2011 and finally enacted two months ago yesterday, will now be officially revoked.
"We will continue our advocacy efforts until we see the rights of the Christians in Tabriz to use this property fully restored, and hope that no such illegal and repressive actions are repeated in the future – for this or any other church."
A former church leader with the Assyrian Evangelical Church thanked Article 18 and the other organisations that have led advocacy efforts, including the World Council of Churches, World Council of Reformed Churches, and World Evangelical Alliance.