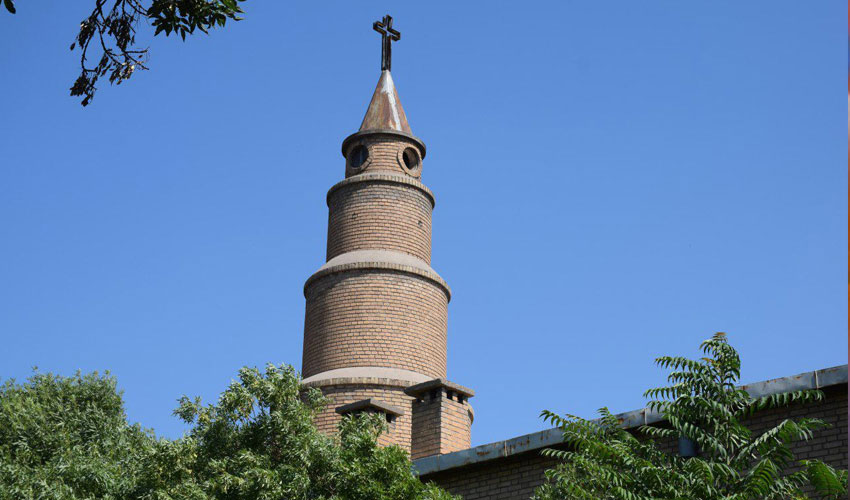 A pro-government news agency in Iran has claimed the Assyrian church in Tabriz was never forcibly closed, as Article18 reported, and that its cross fell down, rather than being torn down, and was replaced after being repaired.
Fars News Agency interviewed two senior Armenian Orthodox church leaders from the East Azerbaijan Province where Tabriz is located, who said the news reports were only "false rumours" and "lies" and that Christians in Iran had always been well treated.
The report further claimed that services at the church had never been halted.
Just last week, Article18 reported that the cross had been put back on top of the church, two months to the day since it was removed.
This came after an international outcry at the church's forcible closure on 9 May at the hands of agents from the Ministry of Intelligence and EIKO, an organisation under the direct control of the Supreme Leader.
Following the church's closure, the Assyrian representative to the Iranian Parliament, Yonathan Betkolia, openly criticised the move in an open letter to the president, Hassan Rouhani, and called for the cross to be put back. 
Then last month a senior legal adviser to the president publicly questioned the legality of the church's closure.
Article18's Advocacy Director, Mansour Borji, pointed to these statements – by senior figures within both the Iranian parliament and government – as evidence that the church had indeed been closed, as was reported.
He also asked: "Why has Fars not spoken with Assyrian church leaders and Synod members who are forced to exile, and instead has interviewed members of the Armenian Orthodox Church, who have little or nothing to do with the ownership of the building?"
Borji said Fars' report was an effort at "damage control" after the "despicable act" of forcibly closing the church and taking down the cross.
The report by Fars claims that the "rumours" of the church's closure were part of an elaborate plan by "enemies" of Iran to take advantage of the difficult political, economic and military environment in which Iran finds itself.
It specifically criticised "Zionist evangelical media", with one of the interviewees calling the evangelical movement a "danger not only to the Christian community but also to the entire human race".
The Assyrian Presbyterian Evangelical Church in Tabriz was first issued with a confiscation order back in 2011, a copy of which Article18 will soon publish as part of a report detailing similar illegal confiscations of Christian properties and the closure of churches by Iranian authorities.
Meanwhile, the photograph below shows an EIKO document, dated May 2012, claiming ownership of the building.